Border Crossing Scholarship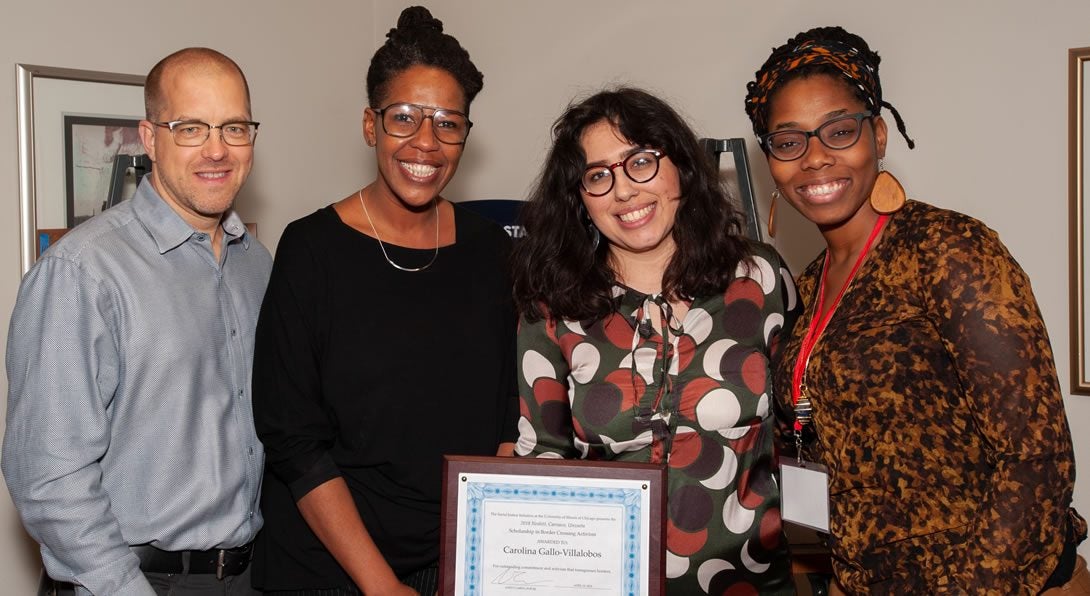 The Nesbitt, Carrasco, Unzueta Scholarship in Border Crossing Activism is an award program of the Social Justice Initiative that honors a UIC undergraduate student whose scholarship and community engagement demonstrate a commitment to social justice activism across national boundaries and identities. Named for three Chicago-based organizers whose work exemplifies transnational solidarity and international movement-building: Prexy Nesbitt, Rosi Carrasco, and Martin Unzueta.  The scholarship recognizes outstanding UIC students whose commitment to justice encourages all of us to think beyond the real or imagined borders of issues, nations, and struggles.
This past year's Border Crossing scholarships was given to Carolina Gallo-Villalobos with the 2018 Border Crossing Scholarship. Carolina is majoring in Latin American and Latina/o Studies at UIC. She has worked with Young Chicago Authors, Real Chi Youth, and ElevArte Studio in Pilsen.
Carolina is a member of Fight for $15, an Urban Planning and Policy Fellow at the UIC Institute for Policy and Civic Engagement, and a data analyst for the Latin United Housing Association.  The selection committee was extremely impressed with Carolina's academic and community work.