Past Exhibitions
Reimagining Black Masculinity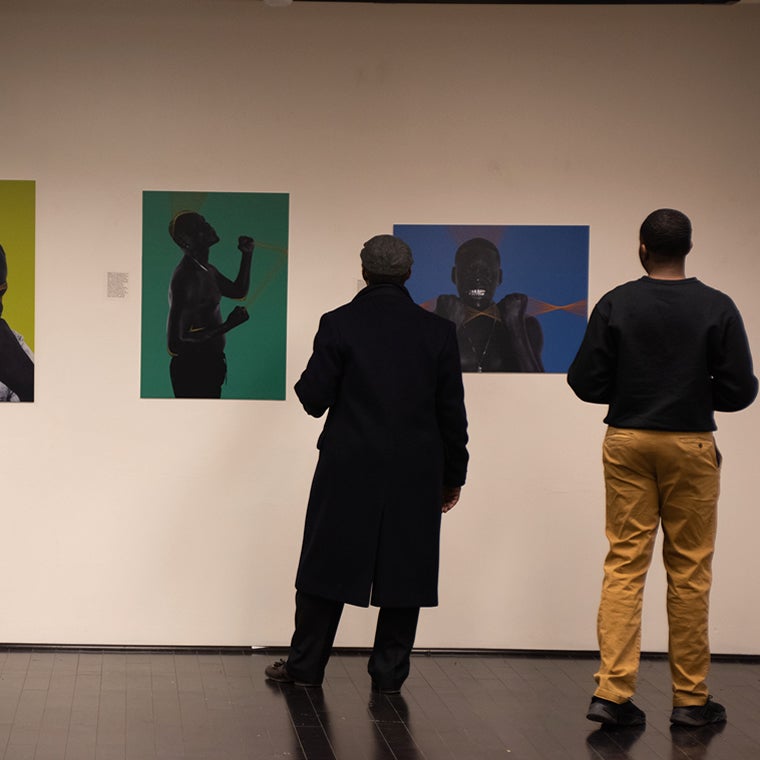 This premiere exhibition features the work of Brooklyn-based Haitian photographer, Zarita Zevallos. In a series of three photography collections, entitled, "Koktel," (Haitian Creole for 'cocktail'), "Pariah," and "Imperium", Zevallos wrestles with themes of Black masculinity, turbulent and contested, in the Caribbean and beyond.
Zevallos interpretive photography boldly defies racist stereotypes of Black men as hyper-masculine, violent and uncaring. Dealing with themes of angst, incarceration, love, hetero-patriarchy, brotherhood, beauty and resilience, Zevallos' images invite viewers to transcend constructs that promote toxic masculinities, and to rethink the ways in which we see race, gender, sexuality and our collective humanity.
While the images are beautiful and powerful, they are not meant to be celebratory. "Reimagining Black Masculinity" invites viewers to interrogate the stereotypes that endanger and constrain Black men, as well as the toxic masculinist expressions and violent actions that also endanger Black women and femmes in our communities.
Revolutionary Remnants: The Art of Protest from the Green Movement to Occupy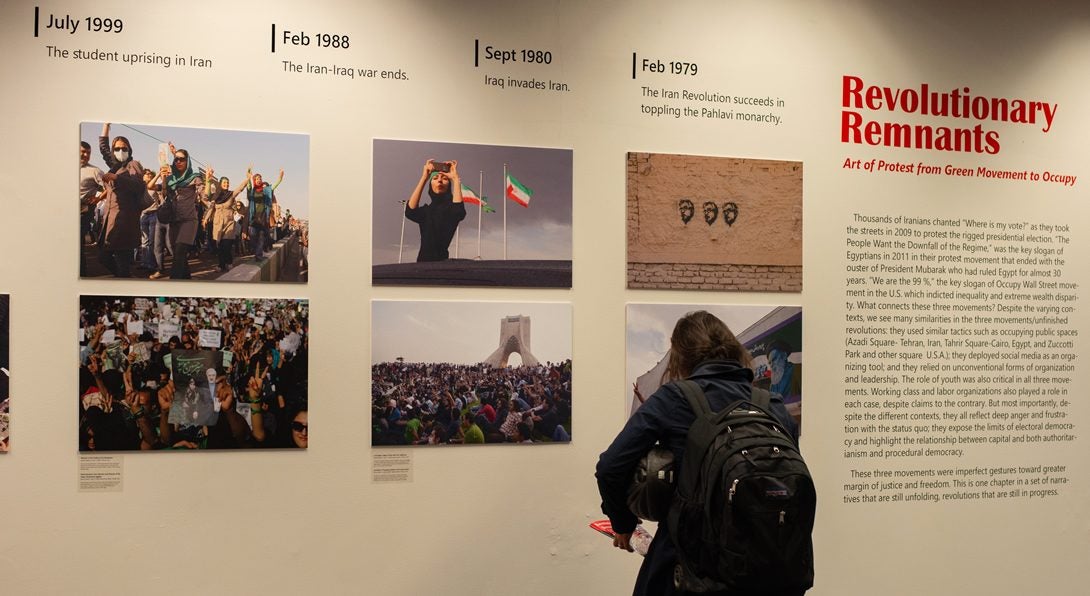 Popular movements demanding "democracy" and " economic equality" occurred around the world in the early 2000s: from Iran's Green Revolution (2009), to the Arab Spring (2010 – 2011), to Occupy Wall Street (2011). With passionate young activists in the forefront, heavily utilizing social media and embracing new strategies and tactics, each movement claimed important victories but fell short of their ultimate goals.
The exhibition explores, through the lens of several photojournalists, what lessons contemporary activists might take away from these three important mass movements. The exhibit is curated by UIC scholars and activists, Atef Said and Kaveh Rafie.
Black Chicago Resists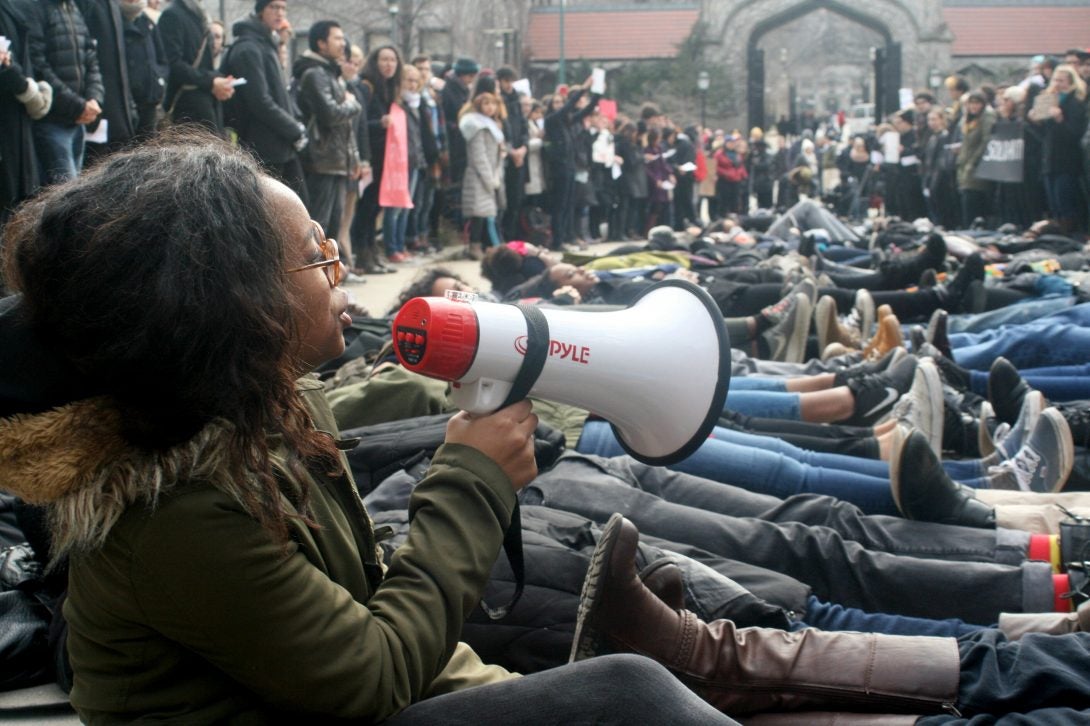 Black Chicago Resists is based on the photographic work of Chicago-area photographer, Owen Lawson. The exhibit provides a glimpse into the varied and layered forms of political resistance by Black Chicagoans and their supporters over the past several years, including Black Lives Matter Chicago, the Freedom Square encampment, fights against school privatization, and organizing against police killings and US-backed wars.
Mr. Owen Lawson is a former Chicago history teacher turned documentary photographer whose provocative and far-reaching photographic images constitute a visual historical narrative. For several decades, he has captured Chicago's Black life in motion, from marches and rallies to cultural events and funerals. More than 100 of Mr. Lawson's photos have appeared on the front pages of Chicago area papers. Beyond his Chicago base, Lawson has documented the experiences of people of African descent throughout the world, from Africa, to South and Central America, to the Caribbean, Canada and other parts of North America.
Freedom Dreams in the Age of Mass Incarceration
Freedom Dreams in the Age of Mass Incarceration, a collaboration between the Social Justice Initiative and the Prison Neighborhood Arts Program (PNAP), aimed to connect artists and scholars with men at Stateville Maximum Security Prison through classes, workshops and guest lectures. The exhibit at the PUJA gallery, April-October 2016, featured work by organizers from the Assata's Daughters collective; Chicago based quilter Dorothy Burge; University of Chicago Professor and writer Eve Ewing; visual artists Ciara Lee Conner, Freshteh Toosi, Monica Trinidad, Krista Franklin, Victoria Martinez, and Aaron Hughes; sound artist Damon Locks; Trinidadian-born painter Sherwin Ovid; and Brazilian muralist Mirtes Zwierzynsky. The artworks were a visual companion to and displayed alongside writings by PNAP students Eric Blackman, Gerald Reed, Ricky Patterson, P. Hartsfield, Demetrius Cunningham, Dustin Sherwood Clay, Abdul Malik Muhammad, Derrick "Ricky" Echols, William Buck, Rodney Clemons, and Kiar Brown. Freedom Dreams in the Age of Mass Incarceration was co-curated by Alice Kim, Iván Arenas and Sarah Ross and funded by the Propeller Fund and the Social Justice Initiative.
28, 43
It is estimated that a Black person in the United States is killed by police, security guards, or vigilantes every 28 hours. The accuracy of this statistic has been called into question, but the prevalence of police-involved deaths of Black people has been a rallying point for activists and organizers in the wake of Mike Brown's death. In Ayotzinapa, Mexico, 43 student activists went missing on September 26th, 2014. Mexican police have been implicated in their disappearance. The remains of one student have been found, but the whereabouts of the 42 others is still unknown. These two instances have incited mass mobilizations in the U.S., Mexico, and other locations and raise questions about whose lives matter and what justice looks like when the state is involved in the death and disappearance of its own citizens. This exhibit 28, 43 highlights how people have mobilized in response to Ferguson and Ayotzinapa and seeks to make connections between seemingly disparate occurrences.