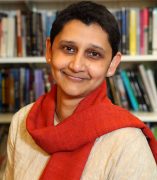 Gayatri Reddy
Associate Professor of Gender and Women's Studies, Global Asian Studies, and Anthropology
Gender and Women's Studies
Global Asian Studies
Anthropology
About
Gayatri Reddy is an anthropologist, feminist, writer, and teacher. She got her B.A from the
University of Delhi, her Masters' in Public Health and her Ph.D in Anthropology from Emory
University. She is a currently an Associate Professor of Gender and Women's Studies, Global
Asian Studies, and Anthropology at the University of Illinois Chicago. Her research, teaching
and community engaged work lie at the intersections of sexuality, gender, race, and the politics
of subject and community formation in India and the Indian diaspora. She is the author of With
Respect to Sex: Negotiating Hijra Identity in South India (University of Chicago Press, 2005), an
ethnography of hijras, the so-called "transgender" community in India. Like the larger corpus of
her work, this book locates such figures of sexual difference, and the domain of sexuality more
generally, within a broader field of social difference, exploring the intersections of gender and
sexuality with religion, race, ethnicity, and class in South Asia and its diaspora. More recently,
she has begun a research project exploring the contextual meanings of blackness in
contemporary India through the lens of Indian Ocean world "African" migrations to India in the
wake of slavery's abolition. Tracing these historical routes and geopolitical mappings through
the prism of masculinity, this project historically and ethnographically explores the complex
ways in which race, blackness, and masculinity are constructed both through global as well as
local contours of difference, to shape contemporary belonging. Finally, she is also working on a
public history project in Chicago (with Anna Guevarra), visualizing displacements of people
and struggles over land, housing, and community stemming from urban renewal
policies in the northside Chicago neighborhood of Uptown. The project draws on long
histories of intentional place-making, multiracial solidarity, and working-class
resistance to such policies, raising critical questions about how we understand urban
"development" or renewal, who this development is for, and how it is structured.