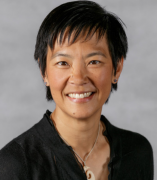 Janet Lin
Professor in the Department of Emergency Medicine, College of Medicine and an Affiliate Professor in Community Health Sciences, School of Public Health
About
Janet Lin is Professor in the Department of Emergency Medicine, College of Medicine and an
Affiliate Professor in Community Health Sciences, School of Public Health at the University of
Illinois in Chicago (UIC). She is Director of Health Systems Development, at UIC's Center for
Global Health.
Her work for the past 18 years has focused on improving health care access and the delivery of
care in resource-limited settings within a framework of public health. She has earned certificates
in tropical medicine and has consulted on global health issues. Her work has led her to pursue
activities in Latin America, Africa, and Asia. Current work focuses on HIV, HCV, and diabetes
screening in the emergency department and linkage to care in Chicago; community
engagement in disaster risk reduction in Haiti and the Caribbean; and emergency care capacity
development in Kenya.
Dr. Lin has been an instrumental leader in the UI Health COVID Response in 2020. She
continues to serve as the Chair of the Emergency Management Committee (EMC) for the
University of Illinois Hospital and Health Sciences.She currently serves on the governing board of the AIDS Foundation of Chicago and the Illinois.
College of Emergency Physicians. She served on the board of directors of MedGlobal, a
humanitarian organization providing locally appropriate care in difficult-to-reach areas of the
world that are affected by war, natural, disasters, famine, and ethnic cleansing from 2017-2020.