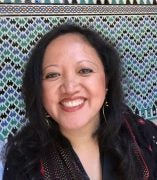 Anna Guevarra, Ph.D.
Founding Director and Associate Professor in the Global Asian Studies Program
Global Asian Studies
About
Anna Guevarra is the Founding Director and Associate Professor in the Global Asian Studies Program and a Co-PI of the UIC AANAPISI Initiative. Her interdisciplinary scholarship, teaching, and community engaged work focuses on immigrant and transnational labor, the geopolitics of carework, the Philippine diaspora, and critical race/ethnic studies. She is an award winning author of numerous works including Marketing Dreams and Manufacturing Heroes: The Transnational Labor Brokering of Filipino Workers (Rutgers Univ Press, 2010) which explores the Philippines' labor exporting economy and the recruitment of nurses and domestic workers. She is also the co-editor of Immigrant Women Workers in the Neoliberal Age (University of IL Press, 2013). She is currently working on a number of projects that reflects a commitment to telling stories of migration, labor, and race and gender formations including those pertaining to robotics and food studies. She is engaged in a collaborative public history multi-media project with Dr. Gayatri Reddy entitled "Dis/Placements: A People's History of Uptown" (https://dis-placements.com), which brings together scholars, students, and community members to trace a People's History of Uptown, a northside neighborhood of Chicago intentionally shaped by multiple forms of displacement and urban renewal, as well as active resistance to it. Dr. Guevarra works and volunteers with Chicago based community organizations that focus on issues of racial and economic justice, immigration rights, and cross-racial solidarity work. Her teaching pedagogy is anchored by social justice and intersectional frameworks, alongside experiential and field-based learning. She is currently a Public Voices Fellow in the OpEd Project. Her PhD is in sociology from the University of California San Francisco.