Apr
23
2020
Understanding the Coronavirus Pandemic Through the Lens of Racial and Social Justice
Covid19 Online Series
April 23, 2020
11:00 AM - 12:00 PM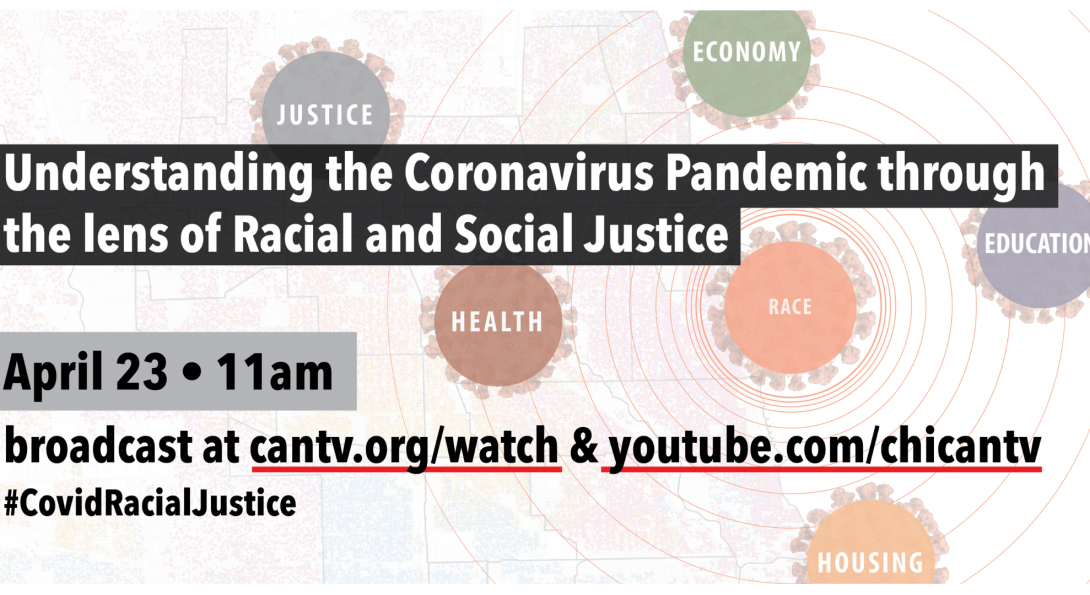 Address
cantv.org/watch, youtube.com/chicantv, Chicago, IL 60612
Cost
Free and Open to the public
In many ways, the coronavirus pandemic is an unprecedented moment. Many around the world are adjusting to physical distancing, stay at home orders, school closures, closed public spaces, and transformed social relations. Although the threat of layoffs and high unemployment, lack of health resources, challenges in education, and insecure housing are new to many, black and brown communities across Chicago and the nation have had to contend with these challenges as daily facts of life.
Join UIC's Social Justice Initiative and the Institute for Research on Race and Public Policy for a conversation with health experts, local and national immigration activists, Chicago alderwomen, and criminal justice organizers to discuss how we work towards and achieve racial justice in the time of Coronavirus and beyond.
Featured Panelist:
Dr. Linda Rae Murray, faculty at UIC's School of Public Health, past President of the American Public Health Association and former Chief Medical Officer for the Cook County Health System.
Aislinn Pulley, co-executive director of the Chicago Torture Justice Center and lead organizer with Black Lives Matter Chicago.
Rossana Rodriguez, alderwoman of Chicago's 33rd Ward and lifelong advocate for public education, labor rights, and the wellbeing of youth and families.
Jeanette Taylor, alderwoman of Chicago's 20th Ward and organizer fighting for the respect and dignity of of working people and education justice.
Gaby Viera, part of the advocacy team at Detention Watch Network (DWN) a national coalition to abolish immigration detention in the United States.
Reyna Wences, community organizer with Organized Communities Against Deportations (OCAD) and co-founder for the Immigrant Youth Justice League (IYJL).
Register
Contact
Social Justice Initiative
Date updated
Apr 22, 2020