May
7
2020
Economic Justice: Imagining and Demanding in the Time of Coronavirus
Covid19 Online Series
May 7, 2020
9:00 AM - 10:30 AM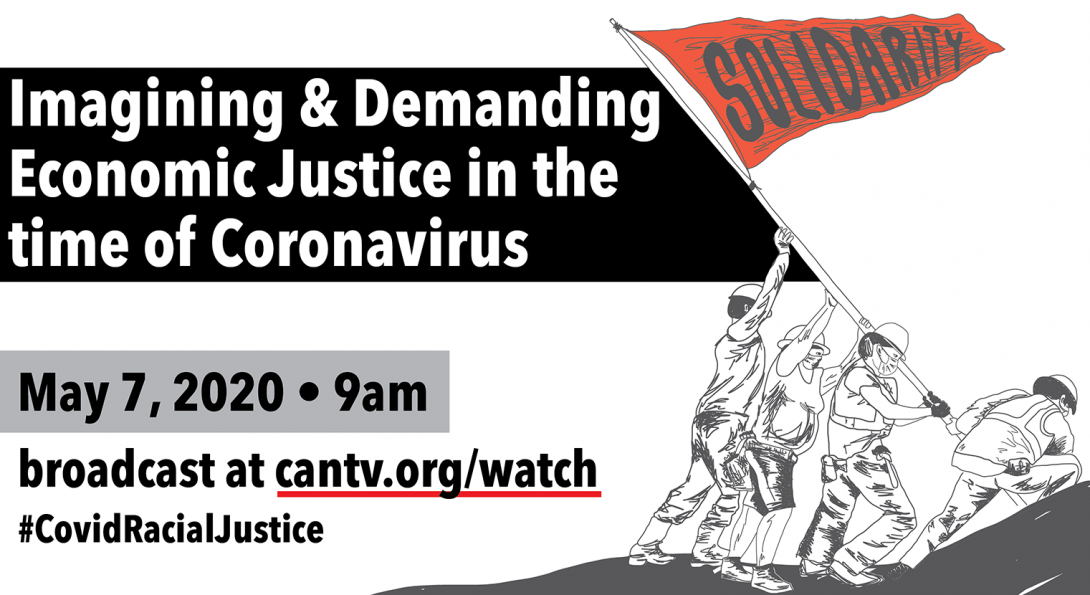 Address
cantv.org/watch, youtube.com/chicantv, Chicago, IL 60612
Cost
Free and Open to the public
In many ways, the coronavirus pandemic is an unprecedented moment. Many around the world are adjusting to physical distancing, stay at home orders, school closures, closed public spaces, and transformed social relations. Although the threat of layoffs and high unemployment, lack of health resources, challenges in education, and insecure housing are new to many, black and brown communities across Chicago and the nation have had to contend with these challenges as daily facts of life.
Join UIC's Social Justice Initiative and the Institute for Research on Race and Public Policy for a conversation with writers, organizers, educators, and academics to discuss how collective action and the solidarity economy can help to not only address immediate issues related to the Coronavirus pandemic but also plan for an alternative economic future.
Please note: This event will be broadcast online by CAN TV at cantv.org/watch and at youtube.com/chicantv.
Follow the conversation on social media using #CovidRacialJustice.
If you have questions for the panelists, we ask that you please submit them to ChicagoRacialJustice@gmail.com by 12 noon on May 4th.
Panelists are:
Kali Akuno, Co-­Founder and Executive Director of Cooperation Jackson. He served as the Director of Special Projects and External Funding in the Mayoral Administration of the late Chokwe Lumumba of Jackson, MS. Kali is also a human rights educator, writer, and an organizer focusing on building organizations and institutions for working-class and oppressed communities. He is the co-editor of "Jackson Rising: the Struggle for Economic Democracy and Black Self-Determination in Jackson, MS", published by Daraja Press in the fall of 2017.
Hoda Katebi, Iranian-American writer, community organizer, and creative educator whose work has been hailed from the BBC to the pages of VOGUE and cited in books, journals, and museums around the world. Katebi is the founding member of Blue Tin Production, an all-women immigrant & refugee-run apparel manufacturing workers co-operative.
Penn Loh, Senior Lecturer and Director of the MPP Program and Community Practice at Tufts University's Department of Urban and Environmental Policy and Planning. He partners with various community base building organizations in the Solidarity Economy Initiative, Right to the City Alliance, and Center for Economic Democracy.
Renee Hatcher, Assistant Professor of Law and the Director of the Community Enterprise & Solidarity Economy Clinic at UIC John Marshall Law School-Chicago. Her legal work and research focus on solidarity economy theory and the law. She is a board member for the New Economy Coalition and a member of the Black Lawyers Economic Solidarity Network (BLESN).
Stacey Sutton, Assistant Professor of Urban Planning and Policy and Faculty Fellow in the Institute for Research on Race and Public Policy at UIC. Her scholarship and organizing focus on the solidarity economy movement, economic democracy, and local liberatory development strategies. She is on the board of In These Times magazine and Advisory Committee of the Social Justice Initiative.
RSVP
Contact
Social Justice Initiative
Date updated
Jun 13, 2020