May
29
2020
Housing Justice: Imagining & Demanding in the time of Coronavirus
Covid Justice Online Series
May 29, 2020
9:00 AM - 11:00 AM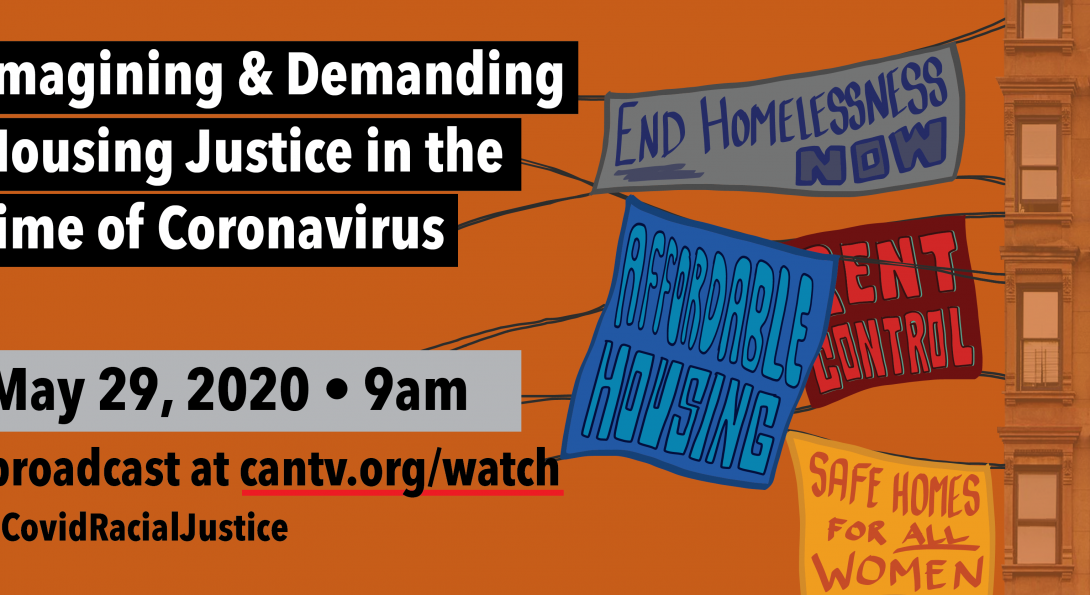 Cost
Free and Open to the public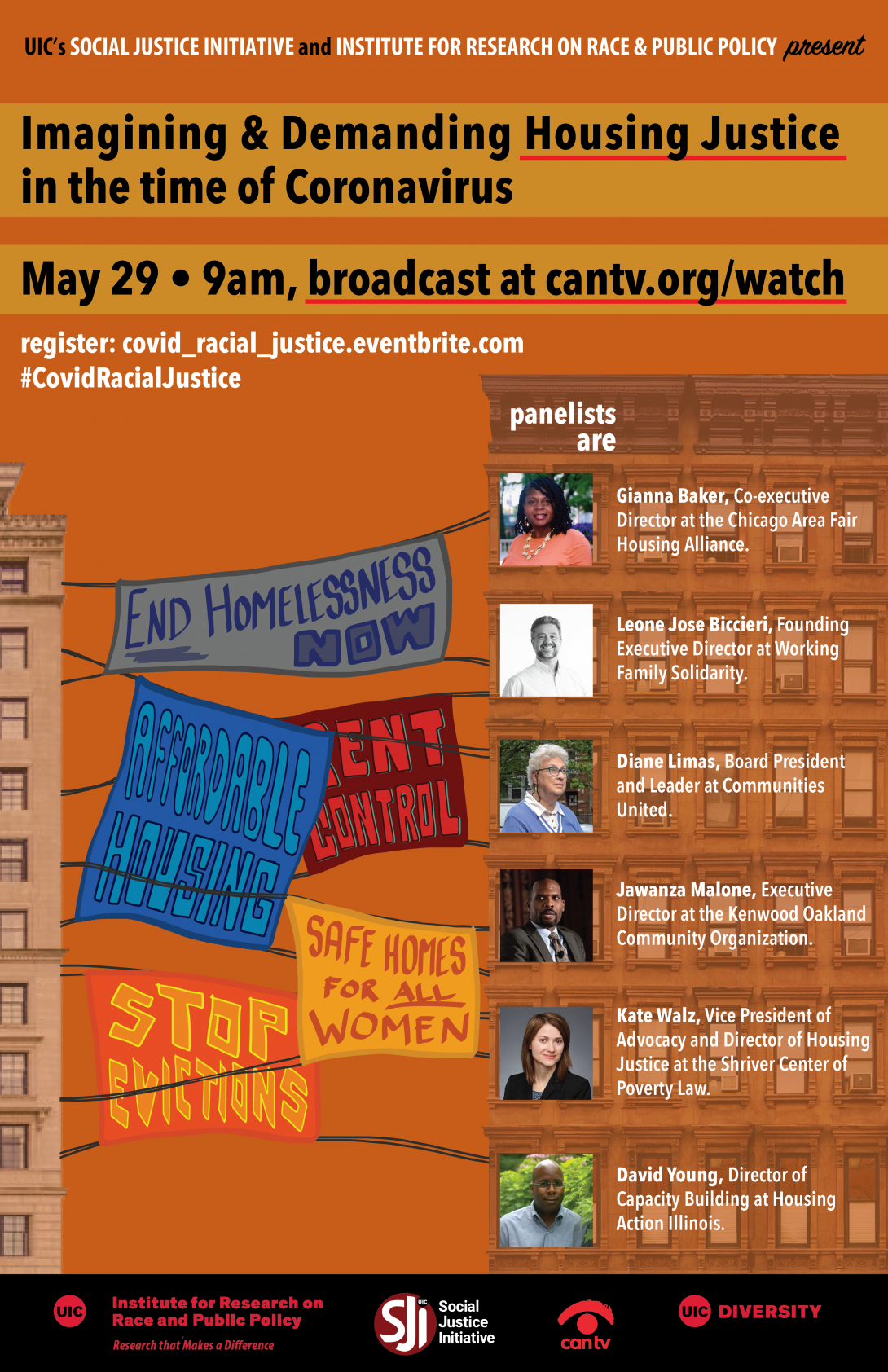 How can we transform housing to better serve the needs of working families and vulnerable Chicago communities during the Coronavirus pandemic and beyond?
In many ways, the coronavirus pandemic is an unprecedented moment. Many around the world are adjusting to physical distancing, stay at home orders, school closures, closed public spaces, and transformed social relations. Although the threat of layoffs and high unemployment, lack of health resources, challenges in education, and insecure housing are new to many, black and brown communities across Chicago and the nation have had to contend with these challenges as daily facts of life.
Join UIC's Social Justice Initiative and the Institute for Research on Race and Public Policy for a conversation with grassroots organizers and housing policy advocates about the key challenges and opportunities to advance housing justice in the current moment in Chicago. The panel will discuss the ways in which the Coronavirus pandemic is impacting affordable housing, rent reform, and health and physical safety inside the home as well as what we can do to transform housing policies to better serve the needs of working families and all Chicago and Illinois residents as we prepare for the near and long term.
Please note: This event will be broadcast online by CAN TV at cantv.org/watch and at youtube.com/chicantv.
Follow the conversation on social media using #CovidRacialJustice.
Panelists are:
Gianna Baker, Co-Executive Director of the Chicago Area Fair Housing Alliance, a non-profit consortium of fair housing and advocacy organizations, social service providers, government agencies, and municipalities committed to the value of fair housing, diversity, and integration. In addition to her role at CAFHA, Gianna Baker currently serves on the governor-appointed board of the Illinois Statewide Independent Living Council, which supports the community integration of people with disabilities.
Diane Limas, Leader and Board President of Communities United, a grassroots, intergenerational racial justice organization in Chicago developing grassroots leadership and building collective power to achieve racial justice and transformative social change by advancing health equity, affordable housing, education justice, youth investment, immigrant rights, police accountability, and shifting resources from the criminal justice and juvenile justice systems into restorative justice alternatives.
Kate Walz, Vice President of Advocacy, Senior Director of Litigation, & Director of Housing Justice at the Shriver Center of Poverty Law, an organization leading the fight for economic and racial justice by litigating, shaping policy, and training and connecting people in the advocacy community. In addition to serving as legal counsel, she spearheads housing policy work for the Shriver Center and is also the co-coordinator of the Safe Homes Initiative, a project aimed at ensuring that survivors of domestic and sexual violence have access to safe, decent, and affordable housing.
David Young, Director of Capacity Building at Housing Action Illinois, a statewide coalition formed to protect and expand the availability of quality, affordable housing throughout Illinois. He oversees their Capacity Building program, which helps members better serve their communities through staff development and programmatic improvement, and the Housing Action Illinois Intermediary, which streamlines administrative functions for housing counseling agencies in Illinois and Indiana.
Leone Jose Bicchieri, Founding Executive Director of Working Family Solidarity, an organization dedicated to building unity among low income families, to fighting together for equitable development, economic justice, and to organizing around community issues such as immigration reform, criminal justice reform, health care improvement, and other social issues.
Jawanza Malone, Executive Director at the Kenwood Oakland Community Organization, the oldest Black-led, membership-based community organization in Chicago. KOCO is on the progressive frontline fighting back regressive policies that continue to negatively impact the quality of life for working people in Chicago and Illinois. KOCO is currently working on two critical campaigns: winning a Community Benefits Agreement for the Obama Presidential Center and establishing rent regulations that would repeal Illinois' statewide prohibition on rent control through the Lift The Ban Coalition.
Contact
Social Justice Initiative
Date updated
Jun 13, 2020