May
14
2020
Education Justice: Demanding and Imagining in the time of Coronavirus
Covid19 Online Series
May 14, 2020
9:00 AM - 11:00 AM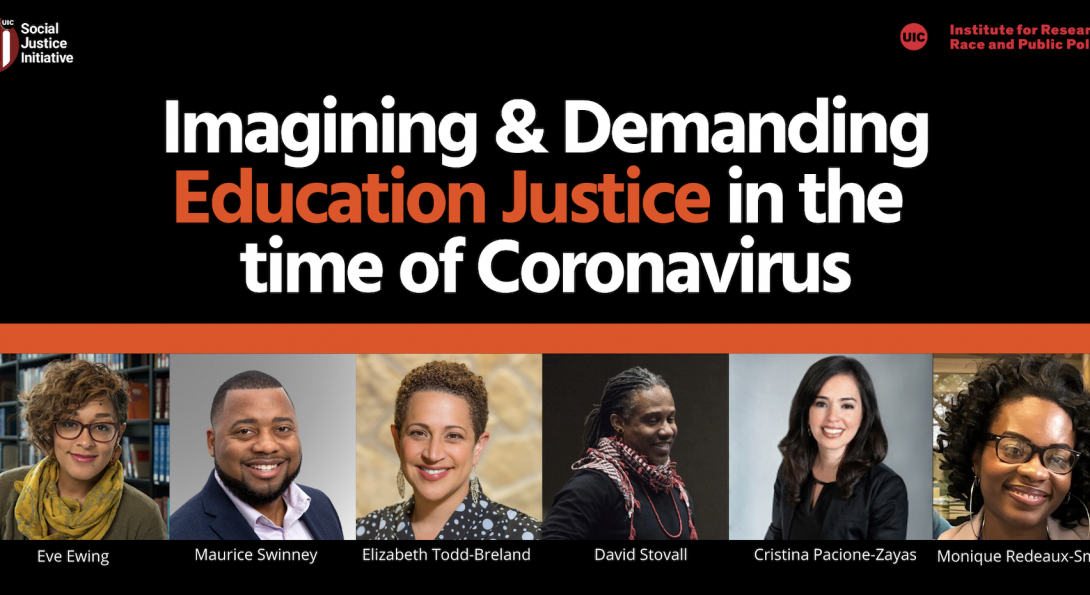 Address
cantv.org/watch, Chicago, IL 60612
Cost
Free and Open to the public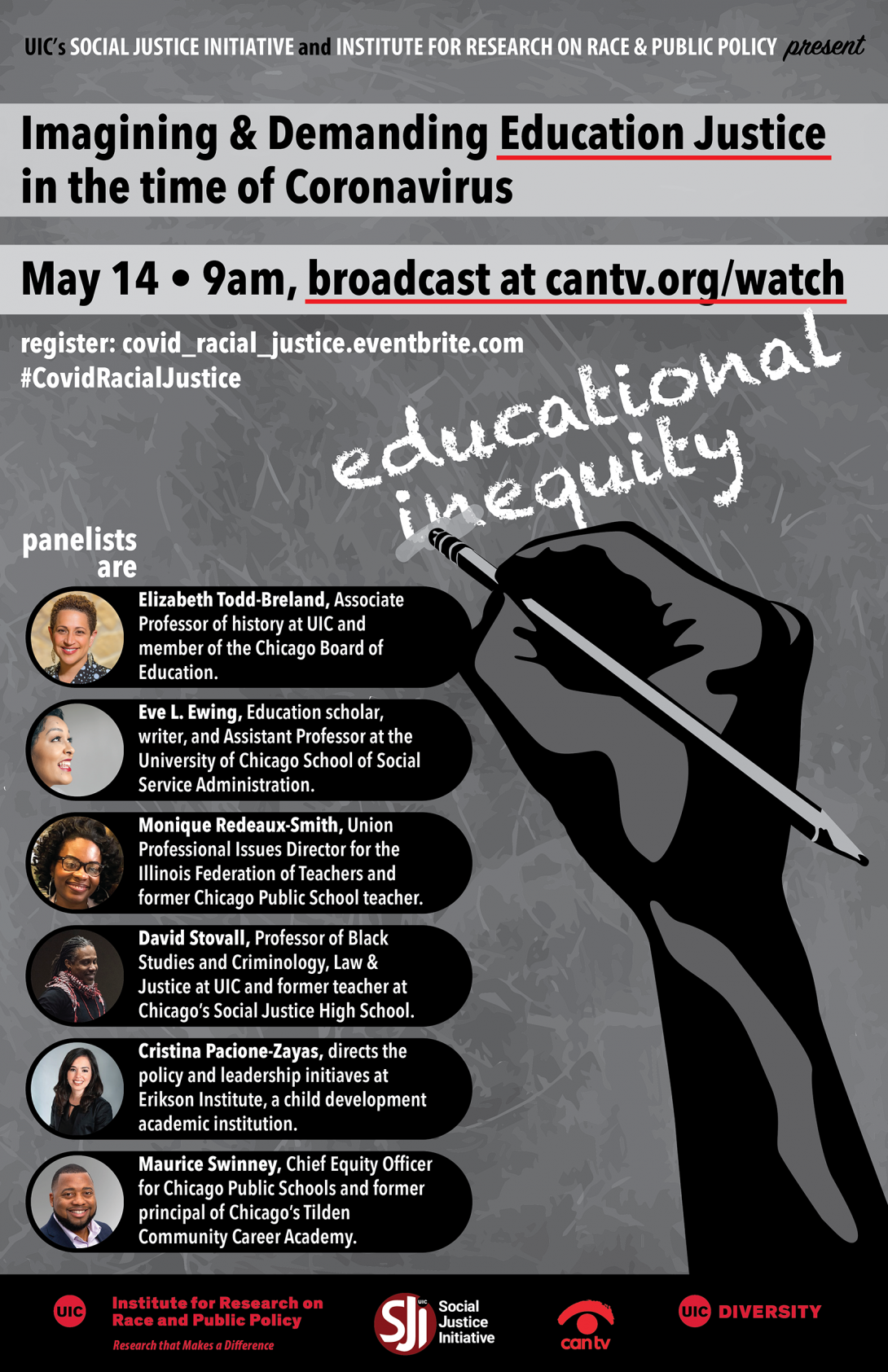 In many ways, the coronavirus pandemic is an unprecedented moment. Many around the world are adjusting to physical distancing, stay at home orders, school closures, closed public spaces, and transformed social relations. Although the threat of layoffs and high unemployment, lack of health resources, challenges in education, and insecure housing are new to many, black and brown communities across Chicago and the nation have had to contend with these challenges as daily facts of life.
Join UIC's Social Justice Initiative and the Institute for Research on Race and Public Policy for a conversation with writers, organizers, educators, and academics about the key challenges and opportunities to advance education justice in the current moment in Chicago. The panel will discuss the ways in which the Coronavirus pandemic is shaping our education system and what we can do to transform education to better serve the needs of students, teachers, parents, and communities as we prepare for the near and long term.
Please note: This event will be broadcast online by CAN TV at cantv.org/watch and at youtube.com/chicantv.
Follow the conversation on social media using #CovidRacialJustice.
Panelists are:
Elizabeth Todd-Breland, author of A Political Education: Black Politics and Education Reform in Chicago Since the 1960s and Associate Professor of History at the University of Illinois at Chicago. Dr. Todd-Breland also organizes professional development workshops and develops curricula on African American history, urban education, and racial equity. She is a member of the Chicago Board of Education.
Eve L. Ewing, sociologist of education and a writer from Chicago. She is the author of the poetry collections 1919 and Electric Arches and the nonfiction work Ghosts in the Schoolyard: Racism and School Closings on Chicago's South Side. Dr. Ewing is an Assistant Professor at the University of Chicago School of Social Service Administration.
Monique Redeaux-Smith, Professional Issues Director for the Illinois Federation of Teachers. She is a Chicago Public School teacher currently on leave who has been a longtime youth, community and union organizer advocating for policies and practices that will improve the educational opportunities and life outcomes of people of color. Dr. Redeaux-Smith is currently on the CTU-CPS taskforce overseeing the Sustainable Community School Initiative.
David Stovall, Professor of Black Studies & Criminology, Law and Justice at the University of Illinois at Chicago. He works with community organizations and schools to address issues of equity, justice, and abolish the school/prison nexus. Dr. Stovall is a member of the Peoples Education Movement, a collection of classroom teachers, community members, students and university professors who engage in collaborative community projects centered in creating relevant curriculum.
Cristina Pacione-Zayas, directs the vision for policy and leadership initiatives at Erikson Institute, a child development academic institution. Dr. Pacione-Zayas is charged with articulating and executing Erikson's policy agenda to generate systemic solutions leading to equitable opportunities and positive outcomes for young children, families, and communities.
Maurice Swinney, is the first ever Chief Equity Officer for Chicago Public Schools (CPS). Dr. Swinney is responsible for moving CPS closer to achieving educational equity, which is a moral imperative for CPS. Prior to this role, he served as the principal of Chicago's Tilden Community Career Academy, where his focus on college readiness and social-emotional learning was recognized by the University of Chicago's Consortium on School Research.
Contact
Social Justice Initiative
Date updated
Jun 13, 2020